28.4% of smokers said they would try to quit
14.2% of smokers said they would not smoke around their dogs
16.4% of nonsmokers who lived with a smoker would ask that person to quit
24.2% of nonsmokers who lived with a smoker would ask that person to smoke outside
40% of the smokers and 24% of the non-smokers asked for more information about quitting and the dangers of second-hand smoke to their dogs.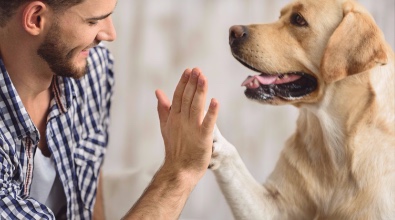 Some research suggests that children who are exposed to animals before the age of 1 are less likely to develop seasonal allergies or asthma later in life as adults. Getting a new pet is probably the last thing on your mind when you have a baby on the way, but it could be your child's best defense against future allergies.
Another study surveyed 55 college students who were asked to either pet a live dog, pet a stuffed dog, or do neither and just sit on a couch. Saliva samples were taken from the students before and after the interactions. Scientists found that the secretory immunoglobulin A (which plays an important role in mucosal immunity and fighting infections) was significantly increased in the group of students petting a live dog!
Dogs Improve Your Cardiovascular Health
Several studies have shown that dog owners have a lower blood pressure than people without pets. This is probably because their pets have a calming effect on them and because dog owners tend to get more exercise. A newer study merged data from the Swedish National Patient Register, which included information on all Swedes from the ages of 40 to 85 who had had a heart attack or stroke between January 2001 and December 2012, with data from the Swedish Kennel Club and the Swedish Board of Agriculture dog registers.
Out of those databases, the researchers gathered information on 181,696 patients. They discovered:
Only 5.7 % of people who suffered a heart attack owned a dog

Only 4.8 % of people who suffered a stroke owned a dog
These amazing results are likely because owning a pet lowers your blood pressure and increases the amount of daily exercise you get.
Spending just a few minutes with a pet has been shown to lower blood pressure and anxiety. This leads to an increase in people's levels of serotonin and dopamine, two neurochemicals that play big roles in calm and wellbeing. Multiple studies have shown that people performing stressful tasks do better when there's a dog around.
While growing evidence supports the idea that dogs enhance human health and well-being, most dog owners can agree that the health benefits of their pups are just a bonus to the loving relationship they share.
From boosting our immune system to encouraging exercise dogs to help us stay healthier and live longer. They are great companions for all members of the family and be trained to keep you safe. Their amazing sense of smell can detect cancers, allergens and they are able to detect the onset of seizures. They improve our happiness and help us deal with depression and anxiety.