What are the safety standards in dog toys?
How to pick safe toys
Our recommendations
You love your dog, and there is nothing better than taking them into a pet store (that allows your dog entry) so that they can pick out their own toys. But it's important to note that you need to ensure the toys your dog is taking home is 100% safe for them.
Not only should toys be safe for your dogs, but they should be enriching and even educational for your dog, forcing them to use their brains, their instincts, and their muscles. In this way, you can ensure that playtime is healthy and provides optimal enrichment for your favorite four-legged furry friend.
What are the safety standards in dog toys?
Who Regulates Dog Toy Safety? No one!
There are currently no national standards for lead and other toxins in pet toys. Most companies use a standard of 600 parts per million for lead, which is the standard for children's toys. Many vets question the standard because what is safe for a child, might not be safe for a 10 lb Yorkie.
Tests conducted by ConsumerAffairs.com found a variety of mainstream toys (mostly Chinese-made) tainted with toxic heavy metals, including cadmium, lead, and chromium. These toxins are released when wet or when bits of the toys are consumed (our dogs don't use hands to play, they use their mouths!)
Here is an example of a popular toy sold at a large retailer – notice the arsenic:
Source: Archived Pet Supply Data
The Michigan-based Ecology Center, a nonprofit environmental organization that analyzes toxins in children's toys and other consumer goods, found that:
45% of products had detectable levels of hazardous toxins
48% percent contained detectable levels of lead
About half of the products had lead levels higher than the allowable standard for children's toys
Experts agree that your dog needs toys and more than one kind. Toys can take the edge off a bad day, relieve stress, and provide comfort for your dog. It's also important to keep multiple types of toys around the house so your dog doesn't get bore.
So how can you make sure to keep your fur-baby safe??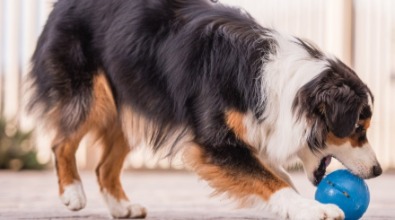 Here are our suggestions on how to pick the safest toys for you.
We strongly suggest picking toys that are made in the US – this also goes for any chews. Most toys that showed high levels of toxins in the ConsumerAffairs.com article were made in China.
Use your senses – strong chemical smells indicate residual chemicals, bright colors may contain toxic ingredients. Fabric dyes are not tested for consumption, yet our dogs explore the world through their mouths.
Avoid anything unnatural – avoid heavily dyed toys, toys treated with fire retardants, stain guard, and soft plastics. Remember that dogs explore the world with their mouths – you don't want your dog to eat that!
Look at the package – some pet toys specifically call out on their packaging when they're free of BPA and phthalates making it easier for you to avoid them.
If you are ever in doubt, call the toy manufacturers and ask them. They should be able to tell you exactly what is in their toys – if not, don't trust them!
How to keep your dog safe
In addition to buying safe toys, you must also remember to:
Always make sure that there are two holes in toys to prevent suction from drawing the tongue into the hole.
Always choose toys that are appropriately sized for your dog. Balls and other toys that are too small can easily be swallowed or become lodged in your dog's throat. Although Truffle (65 lbs) loves small dog toys (eye roll) – I just supervise him when he plays with small toys he can choke on.
Supervise your dog with toys if they are destructible.
Avoid or alter any toys that aren't "dog-proof" by removing ribbons, strings, eyes, or other parts that could be chewed off and/or ingested. Look for toys that are safe for children under three.
Take note of any toy that contains a "squeaker" buried in its center. Your dog may feel that he must find and destroy the source of the squeaking, and he could ingest it. Supervise your dog's play with squeaky toys.
Remember that soft toys are not indestructible, but some are sturdier than others. Soft toys should be machine washable.
Now for the fun part – what toys do we like! All of these can be found at your local pet store.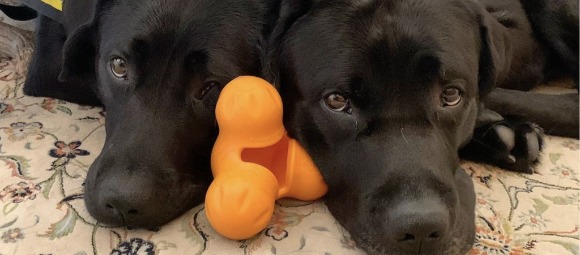 All their toys are made in the US from sustainable materials. On top of all of this, they will replace or refund any product that doesn't live up to their standards or gets destroyed by your dog (up to one time!)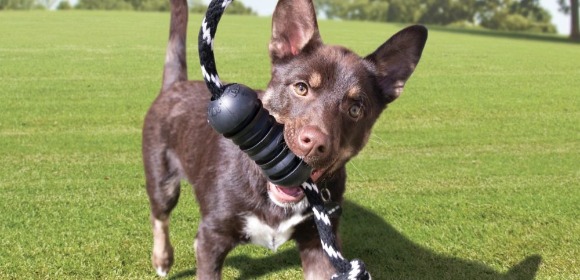 All their toys are made in the US from sustainable materials. On top of all of this, they will replace or refund any product that doesn't live up to their standards or gets destroyed by your dog (up to one time!)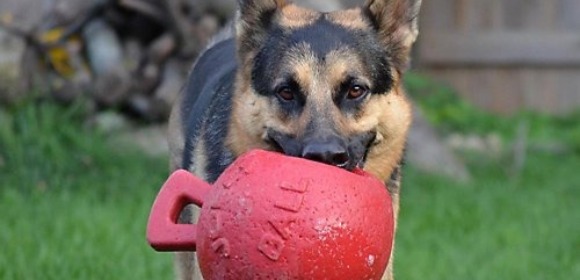 Not all of their toys are made in the US. Truffle's favorites though, the Romp-n-Roll and the Tug-n-Toss, are. "Jolly Pets will always be a brand you can count on to develop fun, creatively designed products with your dog in mind.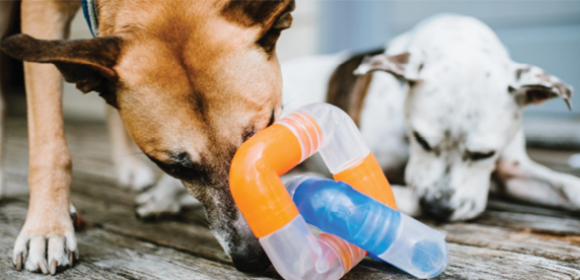 It's all in their name! They are durable, eco-friendly, and made in the US. "Proudly creating the best products, from the best materials, for your best friend."
And something for both cats and dogs…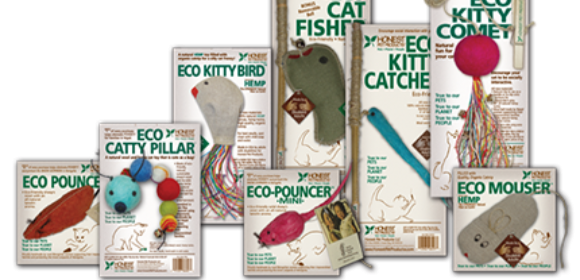 These toys are proudly made in Wisconsin and impoverished families in the Gobi Desert (mostly the wool toys for cats). Their promise "To be true to our pets, our planet, and our people"
I love picking out toys for my dogs. There is something so fantastic about seeing their eyes light up as they try to figure out what this new "thing" is. And I've gotten countless hours of entertainment (and exercise) from playing and interacting with my dogs through the use of toys. Not only can they be mentally stimulating for your dog, but they go a long way in showing your dog that you are considerate of their mental health and their wellbeing.
Just make sure that the toys you're purchasing for your dog are promoting good mental health (and safety) and that you're spending good quality time using these toys to interact with your dog. Seriously, have fun! You both deserve it.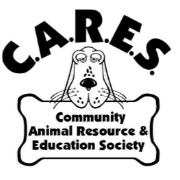 Burien C.A.R.E.S. (Community Animal Resource and Education Society) is a non-profit 501 c(3) Corporation. They are the Animal Care and Control authority for the city of Burien, Washington, and operate a no-kill community animal shelter that houses and cares for Burien's strays, and adopts out unclaimed animals to new loving families. – Thank you for letting us play with your dogs.