In this post:
Why is enrichment necessary for shelter dogs?

How to provide shelter enrichment and help dogs become more social?

Shelter enrichment on a budget

Why is socializing dogs in the shelter important?
Have you ever adopted a dog? 
Wait, let's go back even further than that. Have you ever walked through the kennels within an animal shelter? In some of the larger cities, there are lines of kennels with a wide range of dog emotions. Now, think back to that time, which dogs caught your attention? Was it the ones who were cowering in a corner? My guess is that you didn't even realize that there were dogs in those kennels.
An animal shelter's mission is to try to find homes for as many of their wards as possible. And they know that the scared dogs – the ones who haven't adapted to shelter life, the ones who haven't figured out where they are or why they're there, the ones who can't understand why their original owners left them there – are the ones who are least likely to get adopted.
(Enrichment is) providing an interesting, complex, challenging, stimulating, and variable environment that encourages the animals to explore, think, learn, engage, and be well – mentally and physically."
Animal enrichment is meant to improve the animals' environments and care based on their natural behaviors and instincts. Many zoos are implementing enrichment programs to help stimulate the animals.
They believe that those animals will be happier which in return makes them more appealing to visitors. Well, the same can be done for dogs and cats at a shelter.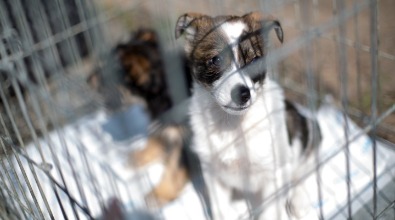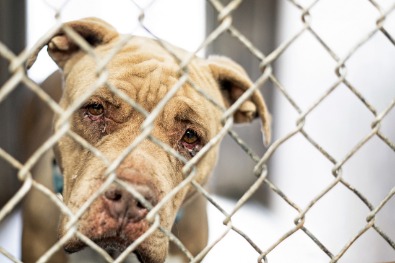 Visualize these scenarios:
A scared dog hiding from all the passer biers
A rowdy dog who is jumping, barking, and tearing up his bed
A calm dog who looks happy
Which one are you more likely to adopt? The happy-looking dog! Enrichment stimulates the dogs mentally and breaks up their boring day.
Enrichment programs can reduce stress
Provide mental and physical stimulation
Give the dogs and cats some control over their environment
Prevent unwanted behavior
This all adds up to = More Adoptions!
How to provide shelter enrichment and help dogs become more social?
Here are some examples from John Griffin at the Women's Animal Center.
"We also have what we call "desk fostering." Other shelters might have the same technique, but call it by a different name. We encourage our dog-friendly staff members to take any dog they take a shining to back to their office or kennel back to their office space. This allows the dog to sleep in a quiet place away from the kennel, play with some cools toys, and have POSITIVE interactions with people. This can make a huge difference in a nervous dog and help them relax and not be quite so scared." – John Griffin
"In addition, because of our volunteer base, all of our dogs get walked twice a day (minimum) and when we have enough staff and volunteers, we try to do more of a play date situation. We have two dogs that we know are dog social, we'll get them and let them play off-leash. It can't happen every day because the staff doesn't have the time or we don't have volunteer involvement. Dogs are social animals, forcing them to be around other dogs and not interact with them, to me, is probably not optimal for their quality of life. So they're social animals and social beings, we should give them a chance to be social. But we shouldn't force dogs who aren't social to participate." – John Griffin
"Specifically, for dogs, all of our dogs are fed out of food toys. Kong is very generous. If you write to them, they typically offer either a discount or donation, so obviously, I would encourage anyone to ask.
In addition, you can get some kibble, throw it in a brown bag, knot the brown bag, and put it in the cage. People can donate brown bags much more frequently than Kongs. It gives the dog a chance to shred things and to burn some energy as they're "solving the puzzle" without the risk of clogging your drain or causing digestion problems within the dog." – John Griffin
Shelter enrichment on a budget
"I would encourage anyone who's looking at doing enrichment on a budget to visit the ASPCA website.  They have a really wonderful webinar about enrichment, as well as a lot of ideas and a lot of things you can do. You'll also be able to tailor their suggestions around your capabilities." – John Griffin
Visit these links for training from ASPCA:
Why is socializing dogs in the shelter important?
I can't imagine anything worse for a dog than seeing other dogs and people and not being able to say hi to them. This can build a lot of tension in a dog and frustration which may cause the dog to become more vocal and destructive in the kennel. That kind of a dog is not an adoptable dog. He is a lot more likely to get passed over.
Spending time with other dogs while at the shelter can make the dog be a lot friendlier and a lot more adaptable. If the shelter has had success introducing the dog to other dogs, it opens up more options for homes. If the dog is just building up more frustration and becomes unsocialized he is limited to the homes that can take him to homes that do not have other dogs.
Getting the dogs out for walks and to meet people and dogs can and will make the dog more adoptable because they are going to be friendlier, they are going to be better behaved in the kennel, and it makes the dog's day.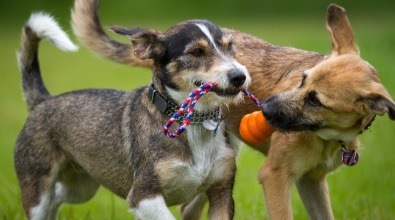 Final thoughts:
There are a few of us who wish we could adopt every single shelter down out there. If only that were possible … but since we can't, there are some low budget ways in which we can help our shelters offer enrichment to their wards in the hopes that they will find them forever homes.
Using the tips above, as well as the additional information located on the ASPCA website, you have some great options to help support your local animal shelter. They will be so grateful and you will know that you made a difference.
Special thanks to: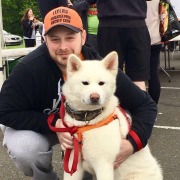 John Griffin is the director of shelter services at Women's Animal Center in Bensalem, PA. They are committed to the humane and compassionate treatment of animals and are distinguished as America's First Animal Shelter. John also volunteers his time with Big East Akita Rescue providing behavior evaluations and transports for homeless Akitas found or surrendered in the greater Philadelphia region.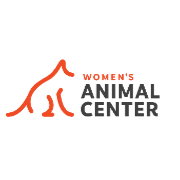 Founded in 1869 Women's Animal Center is an open-admission shelter helping pets and their owners in Lower Bucks County and far Northeast Philadelphia. WAC takes in approximately 3,000 animals a year through the animal shelter with a live release rate of over 90%. WAC operates a full-service veterinary hospital whose services include; surgery, routine vaccines, x-rays, ultrasounds, and dental care.