Traveling with a dog? Here's what you need to know to make sure your furry friend has a safe and enjoyable trip.
Some individuals love to take their entire family traveling with them – dog and all – whether they're taking a long-distance road trip or are flying with carry-on pets! And I salute you for that! Traveling with your dog can be incredibly rewarding, especially if they bring you as much joy and comfort as they bring me.
However, if you are planning a trip with your canine BFF or are planning on bringing a dog into your home and hope to travel with them, then there are a few things you need to do. In this blog, we will look at some of the preparations you need to make before traveling with your four-legged family member.
Before you travel, double check your dog's identification!
Your dog should have an ID on them the whole time they are traveling – even when you're just hanging out in the car. When visiting the vet, have them scan the microchip and double-check your information on it. It's always better to overly cautious in these cases so that you are truly prepared for anything that may happen on the trip.
I'm Serious – Double Check their ID Information
I cannot stress this enough. The last thing you want is for your dog to get away from you while in an area that is not familiar to them. But if they get away from you AND don't have their identification on their collar or aren't chipped, the situation will become even more terrifying. So even if you're confident that the information on their chip is accurate, please double-check it just to be safe.
Visit the Vet Before the Trip​​
Ensuring their health and well-being is important when preparing to take your dog on a trip. Scheduling a quick check-up with your veterinarian before hitting the road is a great idea to ensure your dog is healthy enough for travel and catch any potential health issues early on. This can help avoid any unwelcome surprises or potentially unpleasant experiences while on your trip. For example, if your dog has an ear infection, the discomfort could make the traveling experience stressful.
In addition, if your dog requires any medication, it is important to ensure you have enough to last for the entire trip. Running out of medication while away from home can be very stressful and potentially dangerous for your furry friend. Therefore, checking with your veterinarian and stocking up on any necessary medication before embarking on your adventure is always a good idea.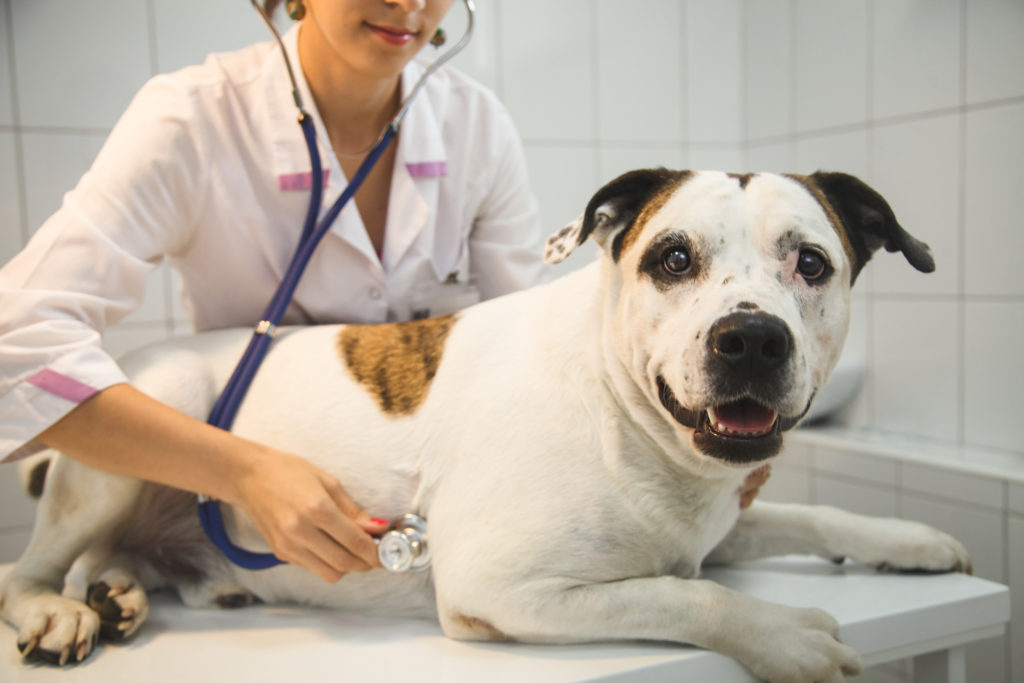 Anxiety, Stress, and Car Sickness
Also, if you happen to know that a) your dog gets car sick or b) they may need some assistance staying calm during the airplane or car ride, then this is the perfect opportunity to discuss the situation with your veterinarian to determine if some sort of prescription would be beneficial to help ease their anxiety and stress during the trip.
Check Microchip Information
Before you travel with your dog, it's important to check on their microchip to make sure it's in good working order and that the information is up-to-date. Microchips are an essential form of identification for dogs, and they can be especially important if you plan on traveling with your furry friend. If your dog gets lost while you're traveling, a microchip can help you get them back home safely. The microchip will allow animal control or a shelter to scan your dog and quickly contact you. 
Here are some tips for checking on your dog's microchip:
Contact the veterinarian who implanted the microchip to see if they have the most up-to-date information.
Ask your veterinarian to scan your dog's microchip to make sure it's working properly.
Make sure the information on the microchip is up-to-date, including your name, address, and phone number.
Keep a current copy of your dog's microchip information in your wallet or purse.
It's Best to be Over Prepared
You want your furry friend's travel experience to be comfortable and stress-free, so it's crucial to plan ahead and pack all the supplies they will need on the road. This will not only make things easier for your pet but also for you as the owner.
Note that this is one of those situations where it's best to be overprepared, especially if you're going somewhere that doesn't have easily accessible pet supply stores. Here are a few items I personally recommend:
Pet carrier
Leashes, harnesses, and extra collar identification tags
Pet waste bags
First aid kit – we highly recommend the First Aid Care Dog Kit from MySimple PetLabs
Health certificates and proof of vaccinations
Carry-on bag (for airplane rides if they are riding in the cabin with you) including treats, water bowl, comfort items, medication, and something to occupy them, such as a puzzle toy
Seat belt attachment (for car rides)
Plenty of their regular food – if you feed raw, we recommend a good cooler or consider switching to a dehydrated raw for the trip
Chances are that you read this list and instantly thought of one or two items your particular furry bff would like to have on hand that I didn't list. That's great! Even if you're not planning on traveling right away with your dog, writing down these items as they come to you will be helpful when it is time to travel with your pup.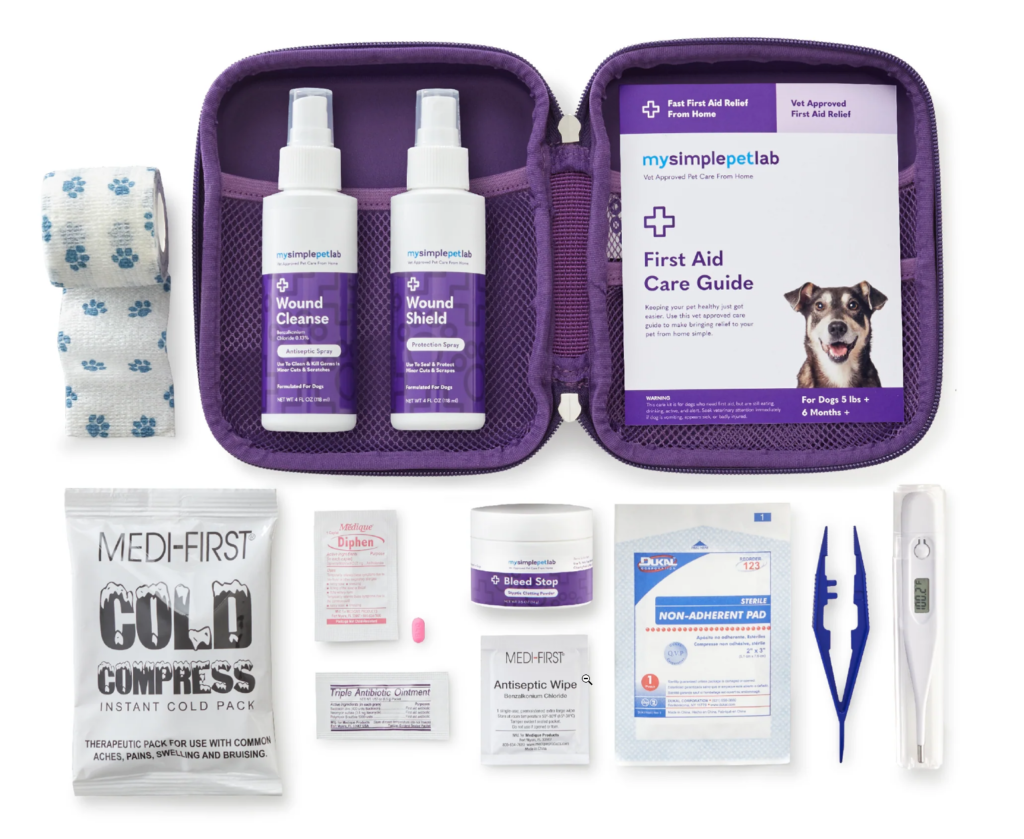 Pack Their Suitcase with Those Items
Yep! Your four-legged furry friends have their own list of items that you have to consider when traveling with them.
The Essentials
Aside from your travel essentials, if you're traveling with a pet, you must consider their needs and pack accordingly. Some of the must-haves include food and water bowls, an adequate supply of food, and water for the car. It's also important to bring a leash or harness – if they prefer to travel outside of a pet carrier – to ensure your pet's safety when out of the car and treats to keep them happy and well-behaved.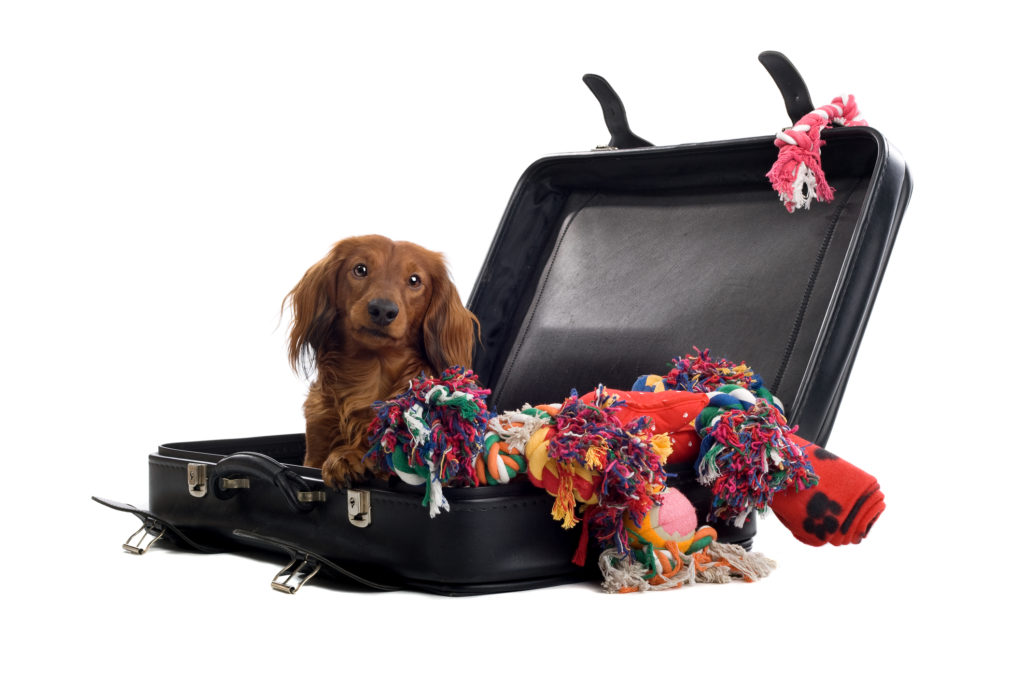 Emergency Items
In addition to the essentials, it's also wise to pack a few extra or "emergency" items, including an extra collar and leash for added security, medication if your pet needs it, and any comfort items that can help soothe them if they become anxious.
Comfort Items
Comfort items can vary and may include a favorite toy, a familiar blanket or bed, or even an article of clothing with your scent on it. These items can help your pet feel safe and secure on the road and during travels.
It's important to anticipate your pet's needs and pack accordingly. You can help ensure your four-legged travel companion is comfortable and happy throughout your journey by taking a little extra time to prepare.
When traveling with your canine best friend, you must know all the rules and regulations related to pets in the places you'll be visiting. Different states and even cities may have varying requirements for traveling with pets, and you don't want to find yourself in a sticky situation due to a lack of knowledge.
Some states may require proof of vaccination for certain diseases (such as dog rabies vaccination), a health certificate, or similar information, while others may have specific breed or size restrictions. It's important to do your research and ensure that you comply with all the regulations of the state or city you'll be visiting, regardless of whether your pups are service dogs or not.
From a legal standpoint, pet travel ignorance is not an excuse. As a pet owner and traveler, it's your responsibility to familiarize yourself with the local laws and regulations that apply to your furry friend. You can often find this information on state or city government websites or by speaking with your veterinarian or pet travel expert. So, make sure you do your homework before embarking on your travels to ensure a safe and stress-free trip for both you and your pup.
Flying with Carry On Pets
If you're flying, either via domestic flights or international flights, you'll also need to check the rules listed on the International Air Transport Association and specific rules listed by the airline you're flying to ensure that you're prepared and fully compliant. In addition, you'll need to know and budget for whatever carry-on pet fee is required. Most airlines will have that information easily accessible but don't hesitate to give them a call if you have questions or can't find detailed information.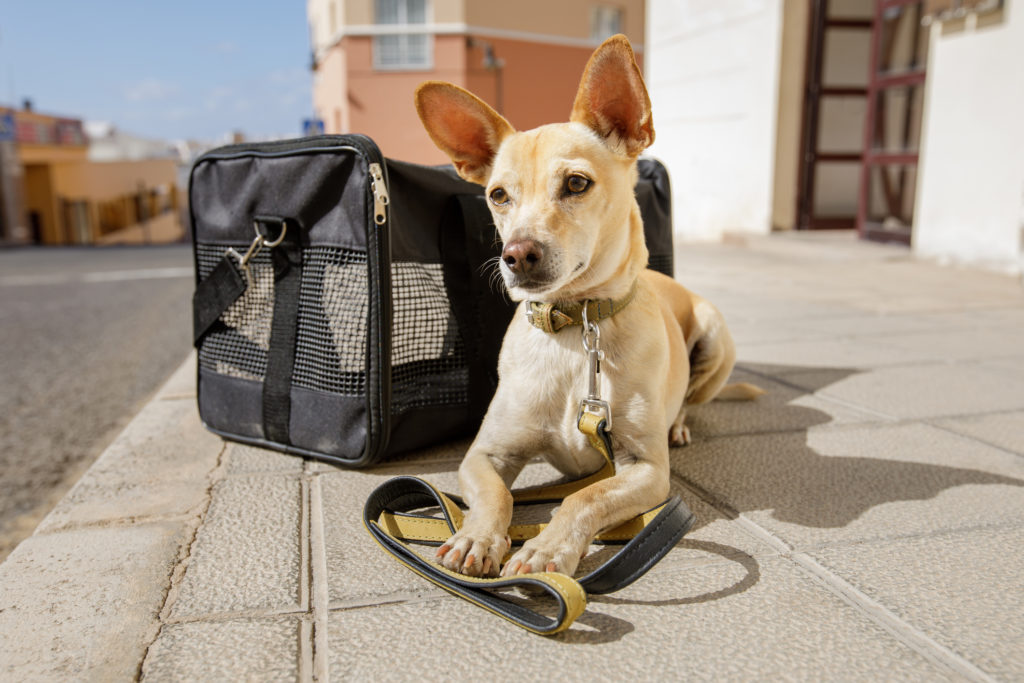 Short and Long-Distance Car Travel with Dogs
If you're taking a road trip with your happy dog, ensure that any hotels, motels, or Air BnBs you book are pet friendly or will accept pets with an additional fee. It might seem tempting to try to sneak your dog in to avoid those pet fees, but I promise it'll be a huge relief to go ahead and pay it so that you don't end up without a room or facing a hefty fine.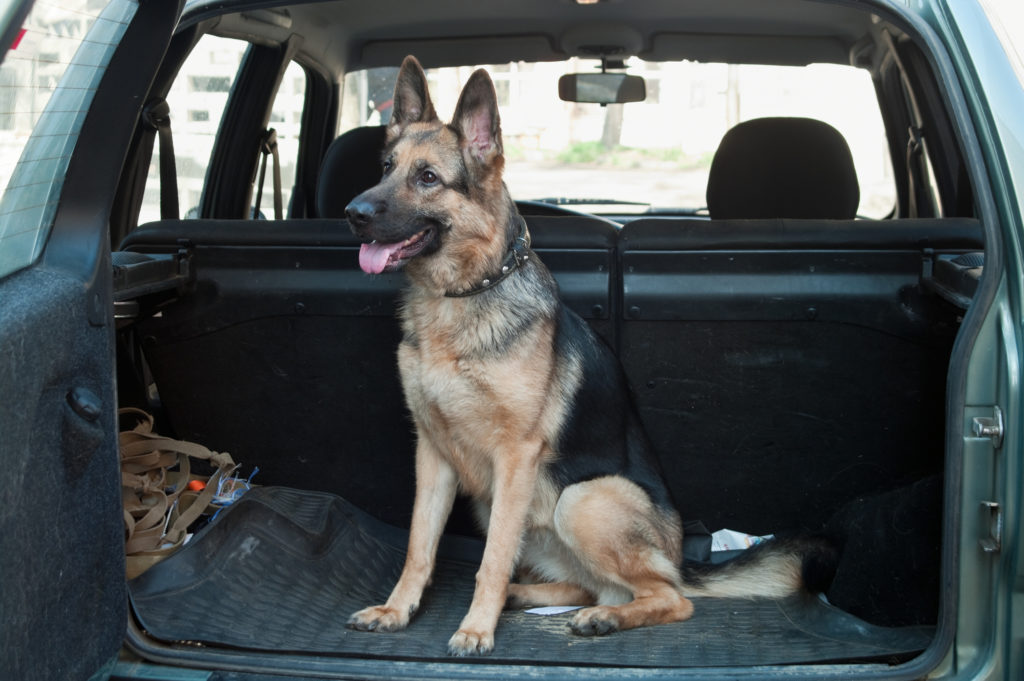 There are a few training techniques and cues that can really be beneficial during a trip.
This cue can be a really useful tool when you're getting in and out of the car. By using the "wait" cue, you can prevent your dog from bolting or running off while you open the car door or unload your bags. Simply cue your dog to "wait" or "stay" and release them only when you are ready. You can learn more about this cue here.
The "touch" cue can be a great addition to your dog's arsenal of commands. Teach your dog to touch your hand on cue so that if they run off or you lose sight of them, you can say "touch," and they will return to you. This can help to keep your dog from running too far away and getting lost. You can learn more about this cue here.
Teaching your dog a reliable "down" cue can help keep them from getting into trouble in emergencies, such as if they try to run after a squirrel onto a busy street. Practice the "down" cue from varying distances and in different environments to help them be prepared for any emergency. You can learn more about this cue here.
No matter how well-trained your furry friend may be, when you're traveling with your dog, it's always best to use a leash or harness. When in a new environment, your dog may become more curious and distracted than usual, making it harder to keep them under control.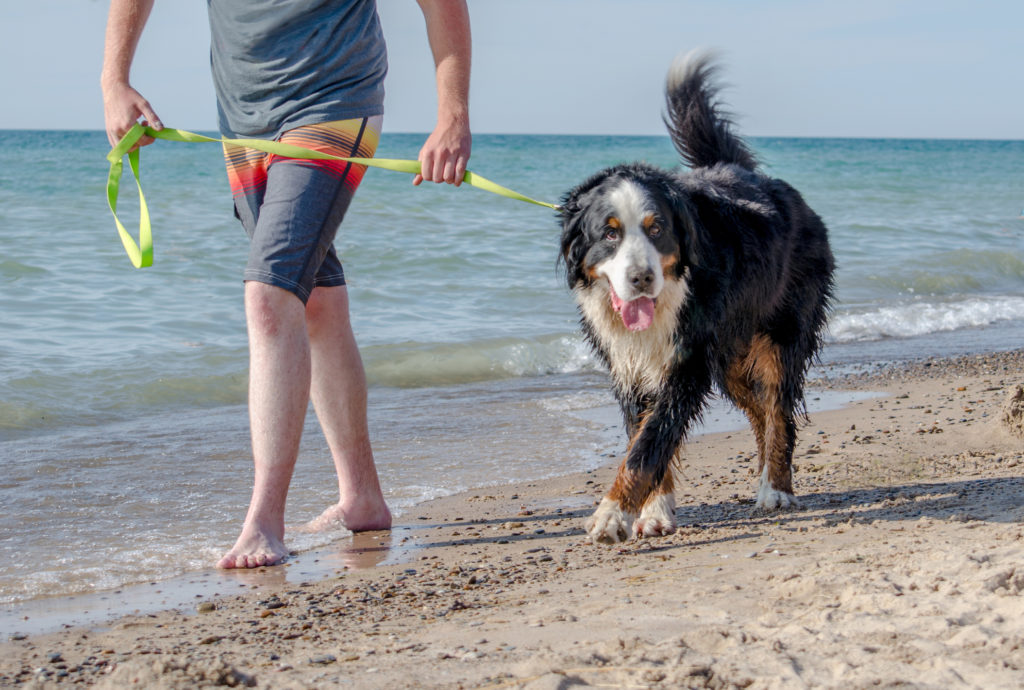 Furthermore, it's important to remember that not all dogs are friendly, and not all people are comfortable around them. In a new environment, you cannot predict how your dog will react, nor can you predict the behavior of those around you. With so many variables in play, using a leash or harness is always better. This way, you can keep your dog safe and in control, avoiding potential risks or uncomfortable situations.
Even if your dog is well-trained, it's important to realize that many dogs do not generalize their training. For example, if your dog is trained to walk off-leash at home, they might not be familiar with the nuances of a new environment and violate the training.
Overall, whether you're in an unfamiliar park or a new city, it's always better to be safe than sorry. Using a leash or harness effectively ensures that you have control of your furry friend at all times and can mitigate any unforeseen risks or problems.
When traveling with your dog, planning your travel route ahead of time is important. This will help you identify potential stops along the way for potty breaks and exercise and dog-friendly places to stay for the night.
Dog Parks and Relief Areas
Before hitting the road, take some time to research and identify any dog parks, pet relief areas, and pet-friendly restaurants along the way. Many states have rest areas with designated pet relief areas where your dog can stretch their legs and do their business. You can also use mobile apps and online maps to find pet-friendly destinations or a highly-rated dog park along your route.
Extra Breaks for their Comfort
Pet owners also need to plan their route with their dog's comfort and safety in mind. For example, if your dog is prone to motion sickness, you may need more frequent breaks. You may also want to avoid routes with extreme weather conditions or winding roads, which can make your dog uncomfortable.
Pet-Friendly Accommodations
If you're planning an extended road trip, consider booking pet-friendly accommodations in advance to ensure your pup has a comfortable place to rest. Many hotels and motels have pet-friendly rooms, but they may have certain restrictions or fees, so it's important to research and book in advance.
Overall, planning your travel route can help make your trip go smoothly and keep your furry friend well-rested and happy. So, do your research, pack accordingly, and prepare for an unforgettable journey with your pup.
Practice, Practice, Practice!!
Taking your dog on mini trips can also help them become more familiar with being in the car.
Dogs can suffer from motion sickness and anxiety, which can cause them to become restless and unhappy during long car rides. By gradually increasing the duration and frequency of your trips, you can help your dog become more comfortable in the car and help you figure out how often you should give your dog exercise breaks.
Moreover, it allows you to analyze whether your dog is ready for a long-distance trip. For example, if your dog becomes too restless, anxious, or uncomfortable during these mini-trips, it might indicate that a more extended trip would be too stressful for them.
Overall, taking your dog out on mini-trip adventures is a good idea, not just for practice but also for a general bonding experience. However, as you enjoy these mini-trips, be sure to take note of any adjustments you need to make, like a change in the frequency or the duration of your breaks and other ways to ensure safety for your pet.
So, Are Your Suitcases Packed?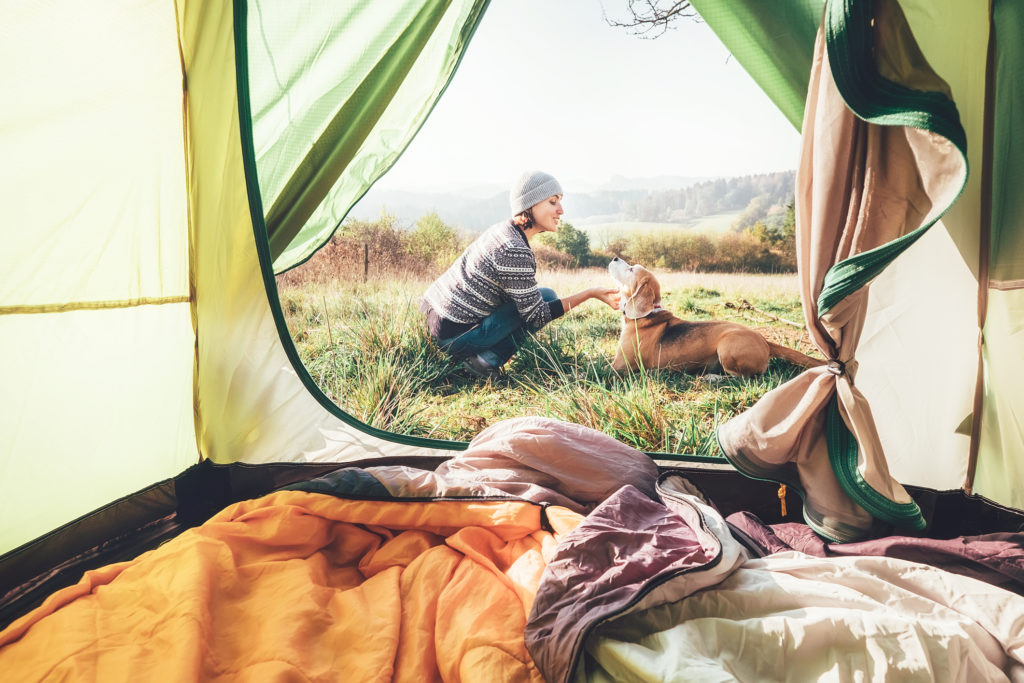 Planning a trip with your furry friend can be a lot of fun but can also be overwhelming. There are so many things to consider and prepare for, from packing the right supplies to mapping out your travel route and identifying pet-friendly stops.
However, by taking the time to sit down and outline all of the things you need to consider, you'll be far more likely to identify any other areas that may need your attention. You might discover that your dog suffers from motion sickness or that they need a specific type of food or medication to stay healthy and comfortable on the road.
It's important to remember that every dog is different, so your travel plans must adapt to their unique needs. By preparing in advance, you can minimize the risk of any unexpected surprises during your trip and ensure that you and your furry friend have an enjoyable and stress-free time.
In conclusion, whether you're planning a day trip or a cross-country adventure, taking the time to plan and prepare will help you make the most out of your travels with your dog. Be sure to take note of all the tips we've covered in this article, and always prioritize your pet's health, safety, and comfort. Most importantly, have fun and enjoy your time together!