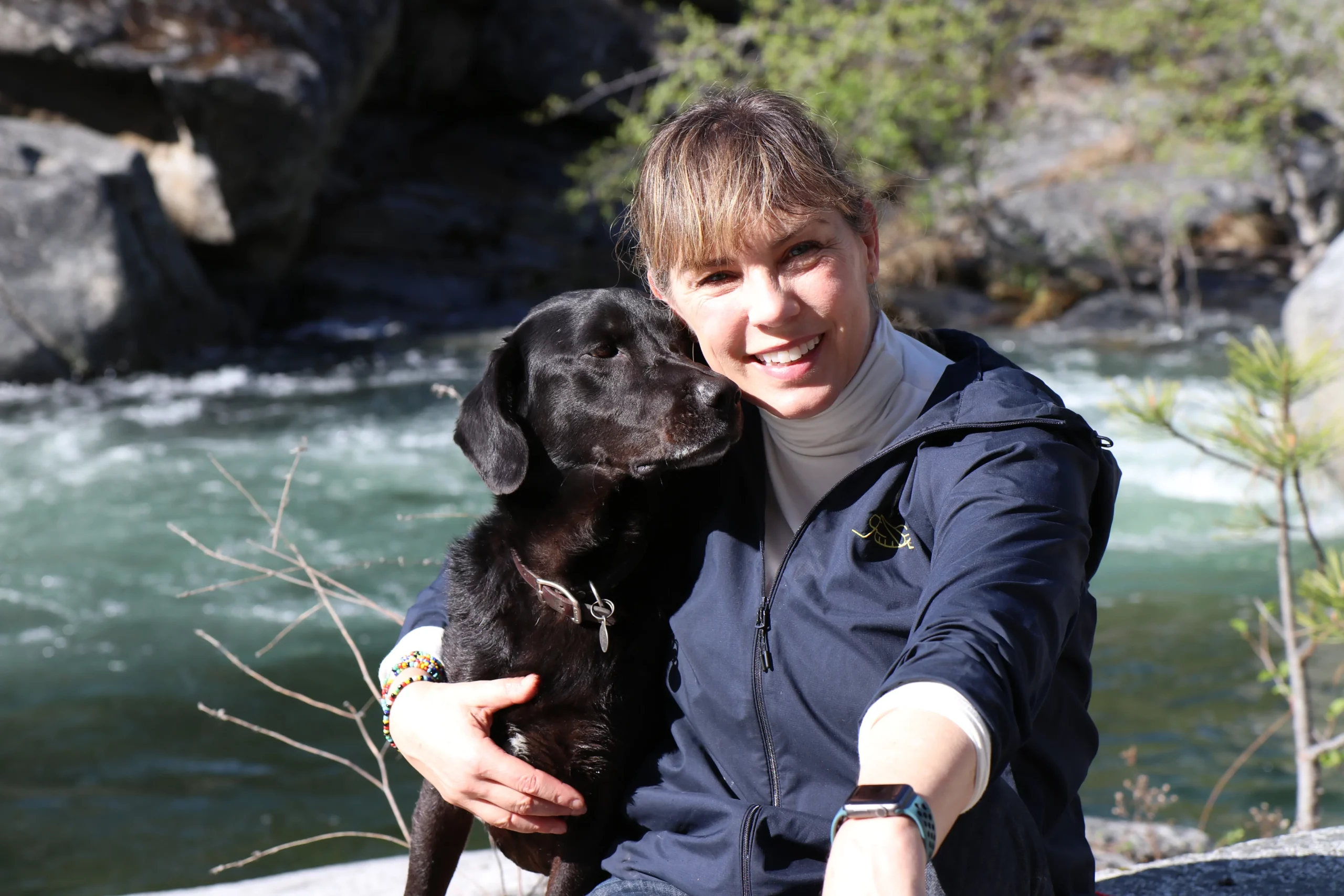 Our Chat with Anne Carlson, Founder & CEO of Jiminy's Dog Food
I think it's clear that we're pretty smitten with dogs here at Wag Enabled. From the wagging tails and wet noses (and the window art they create) to the countless times they make us laugh, and the years of joy they bring to our homes, dogs are, quite possibly, the greatest thing since sliced bread.
But you know what else we love here at Wag Enabled? Our planet! And, because of that, we strive to work with and support individuals and companies who are looking to make it a better place by offering sustainable solutions designed to protect this beautiful planet and everyone on it.
This desire to be sustainable led us to try out Jiminy's Dog Food (you can find our review here), and, of course, we loved it! So, we reached out to Anne Carlson, the Founder, and CEO of Jiminy's Dog Food, to see if we could interview her about the experiences that led her to create this incredible brand.
Scroll down to read our full interview with her, then let us know how much your four-legged family members love Jiminy's Dog Food (because we know you're going to want to try it after this!).
Questions About Jiminy's Brand/Business:
Can you tell us a little bit about yourself and your pups?
I was born in Madison, Wisconsin but grew up in Tiburon, California. One of the happiest days in my life was when my parents finally agreed to adopt a dog – Sunny. He was a big lab mix and really smart (even though he was a reject from the seeing eye dog program).
I went to Washington University and then earned an MBA at NYU. I met my husband Eric while in New York, and we moved to Berkeley, and it's where I've lived most of my life. My daughter Boothe was born there, and I worked as a consultant for years before moving on to Del Monte and then Big Heart Pet in San Francisco.
We've had several dogs over the years, and I now have two. One's a black lab mix named Tuco, and the other's a merle Great Dane called Timber. Tuco's a funny guy – he's got tiny feet and a seriously long tongue – he's the Gene Simmons of dogs! Timber's an incredible athlete and has only eaten Jiminy's food his whole life – and I don't think it's a coincidence! He's actually a really good swimmer, and he'll pass right by me when I'm on a paddleboard. We call it "Backcountry swimming with the seals," as he's really sleek in the water, and he just churns forward.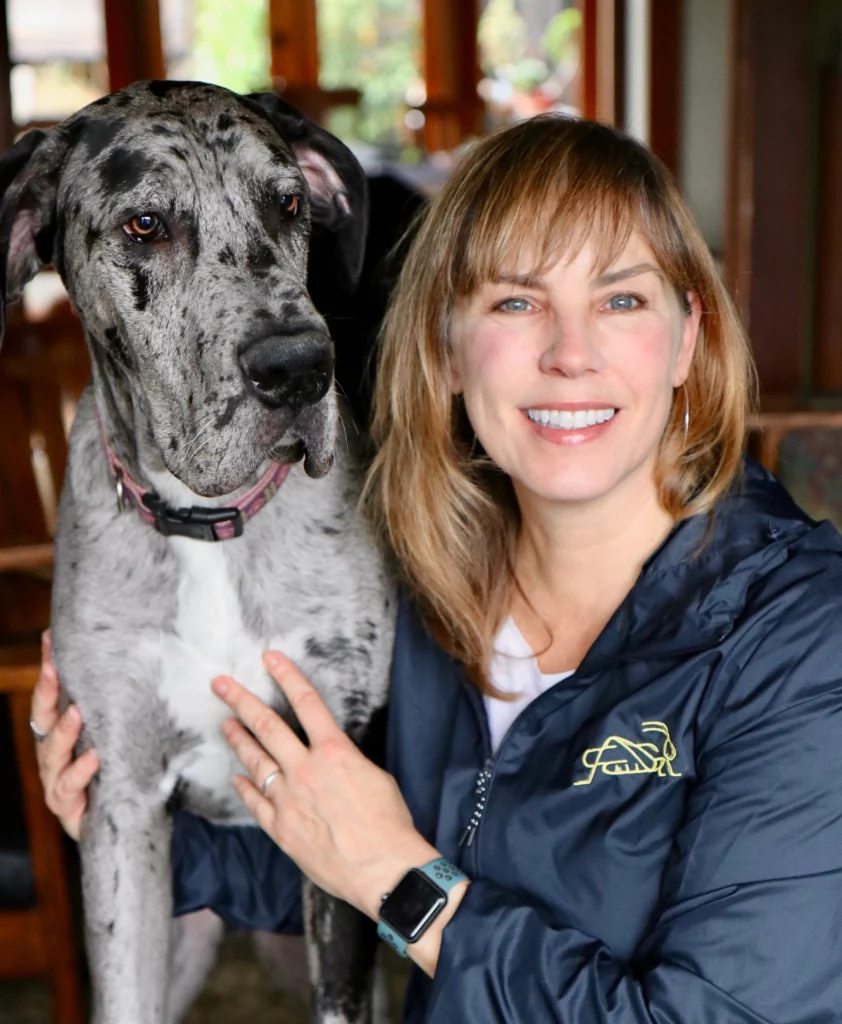 What inspired you to create Jiminy's dog food?
My daughter Boothe said she didn't want to have kids because of climate change and the degrading environment. Well, I'd love to have a grandkid, so I started looking for a way to make a difference.
How did you discover insect proteins?
A 2013 UN study got it on my radar. It projected [the] world population inflating from 7 billion people to 9.7 billion by 2050. Insect protein was put forth as one solution to world hunger. I immediately thought – why not dogs? I looked into cricket protein and didn't find any downsides. We fed cricket protein to our dogs, and they thrived and then actually drooled when mealtime came, so I knew we had a hit.
What does it mean to you to be a sustainable brand?
It's everything to me – existential on many levels. I don't see the point in making an unsustainable product in any field at this point. Whatever positives your product contributes to society are wiped out if it's ultimately unsustainable. If you're unsustainable, then you're harming the planet, and we're at the point where there's no further margin for error. We have to do our best.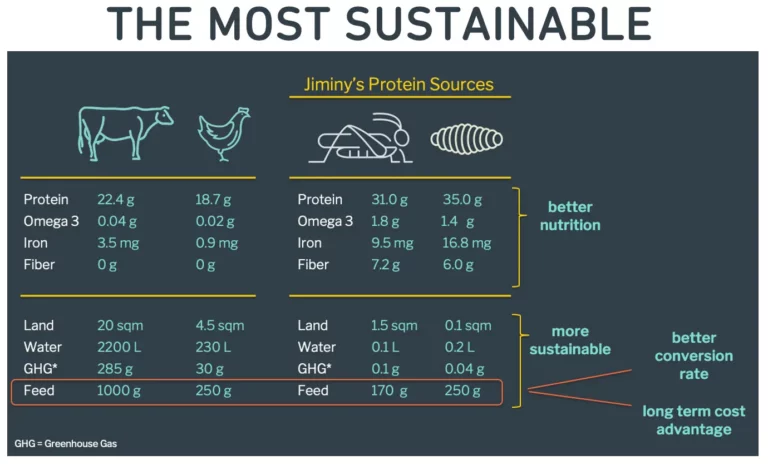 What makes insect farming sustainable?
The smaller the animal, the less land and water it needs, and you don't get much smaller than an insect. Here's the stark difference: If you put cattle on one acre of land, you'll produce about 192 pounds of protein at the end of a year. If you put crickets on that same acre, you'll get 65,000 pounds of protein after a year. Black soldier fly larvae (grubs) are even smaller and, after a year, will yield one million pounds of protein. The numbers are astounding.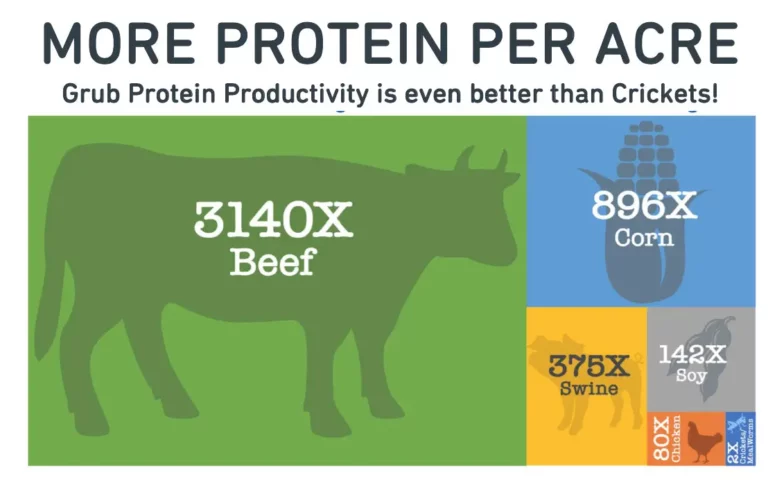 Why is it important for pet food manufacturers to be sustainable?
The word sustainable says it all. Sustainable means you can keep going on that path – there are enough resources to support continuous production. For years you could get away with being unsustainable as there was a surplus of water and land. Conservation wasn't a primary consideration and was considered something like a luxury. Now, conservation's no longer a luxury but a necessity. In Jiminy's case, you could say cricket protein is the feature AND the bug!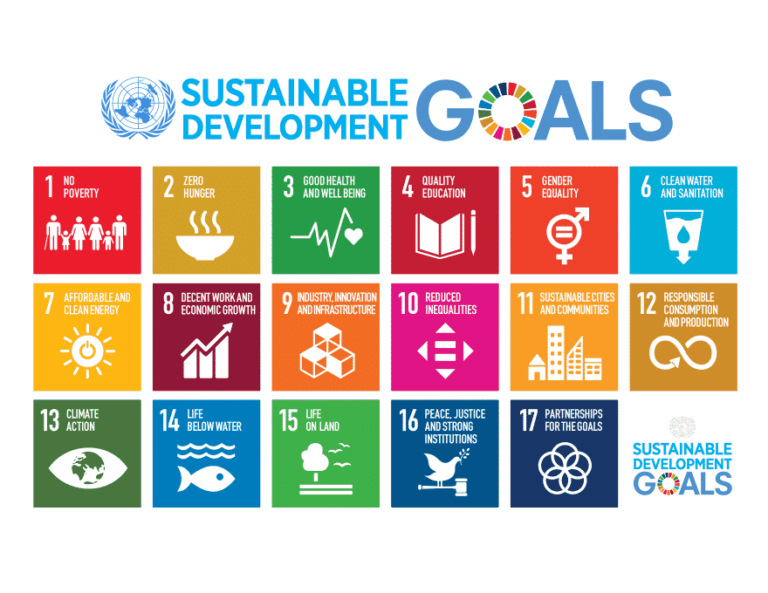 Questions About Jiminy's Food:
For me, it's a simple answer – sustainability and climate change. The neat thing, though, is cricket protein functions somewhat like a Swiss army knife – what do you need? A pet parent whose pup is suffering from a protein allergy appreciates that cricket protein is a novel protein and might help solve a protein allergy. A dog with digestion issues now has a great option as our insect protein is pre-biotic and good for the gut. Jiminy's insect protein is also humane, nutritious, food safe. It goes on and on. Like I said, what do you need?

Do you have a veterinary nutritionist or some equivalent on staff at your company?
We actually work with several veterinarian nutritionists. You absolutely need a great working relationship with your nutritionists, and the ones we collaborate with are very accessible and knowledgeable. They have my complete trust, and at this point, we have a lot of collective experience.
Who formulates your diets, and what are their credentials?
We work together with our nutritionists to formulate our diets. We start with a concept – what are we trying to do? We define the product's purpose and the benefits we want to achieve. We then work as a team to ensure that we build a product that delivers that purpose and those benefits.
Where do you source your ingredients, including your vitamin and mineral supplements?
All of our ingredients are North American sourced. It's been an advantage since COVID with all the supply shortages of imported ingredients, packaging, etc. By the way, I don't know if you've ever held a bag of just minerals, but it's incredibly dense and heavy. I can barely pick up a medium-sized bag. Your pup's well-covered with the vitamins and minerals contained in Jiminy's food and treats. Those ingredients have real heft!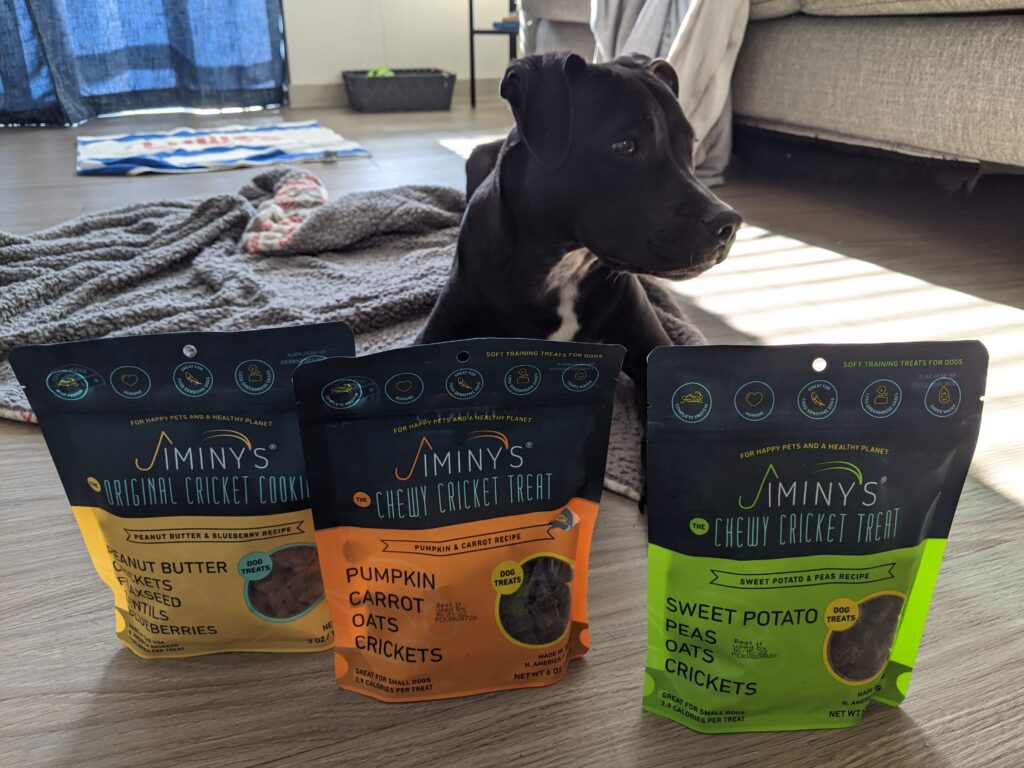 What quality control do you perform on ingredients coming into your facility to check for pathogens/purity?
Our ingredients are tested before they come into the manufacturing facility and then tested again by the facilities themselves. Interestingly, insect protein doesn't have e coli or salmonella issues. It's a distinct advantage given pet parents' concerns with food safety recalls of products using traditional proteins like beef or chicken.
Are your products human-edible, human-grade, or feed-grade?
Our products consist of natural ingredients, so they'd be fine for human consumption, but we can't list them as human-grade because that designation depends on whether the manufacturing plant has been given that certification. Our two puffs products – Nooch Puffs and Peanut Puffs – are human-grade since they're made in a plant that's certified human-grade.
Side note, the Wag Enabled team totally tried the Nooch Puffs and they are pretty tastey!
What kinds of research have been conducted on your products?
We believe in research – it's to Jiminy's advantage!
Working with Animal Biome, we did a study to find out more on cricket protein's effect on gut health and the gut biome. We confirmed that cricket protein is terrific for the gut biome. The protein's fiber feeds the good bacteria in the gut, so we're pre-biotic.
Iowa State and Jiminy's also looked into digestibility and found that cricket protein's as digestible as any traditional protein like beef or chicken.
There are now a lot of published, peer-reviewed studies exploring insect protein, and the news is all good.
If asked, can you provide a complete product nutrient analysis?
Of course. Our ingredients are natural and North American sourced, so they're fresh and healthy. All Jiminy's foods and treats feature insect protein and are then formulated to be complete and balanced for a dog's optimal health.

What do you think pet parents should look for when choosing dog food?
Nutrition should come first, second, and third. If your pup isn't getting nutritious food, then you're not doing your job. Once you're sure the food's nutritious, then look at sustainability. You can improve the planet by simply feeding your dog. It's an incredibly important step and an absolute must at this point in time. Of course, Jiminy's is your first and best option in both cases, and I'd have to admit that even if I didn't have a connection to Jiminy's.
Do you have any tips for pet parents to become more environmentally friendly?
Nowadays – outside of food – a pet parent has tons of options. It's a great time for eco-conscious pet parents. Avoid any products using virgin plastic. It's the simplest rule, and it goes a long way. Some dog beds use wool as stuffing. Some stuffed chew toys use rope instead of polyfill. A metal dog bowl is a great option. And consider Jiminy's food. Compared to a beef treat, just one bag of our 6oz soft & chewy treat saves 220 gallons of water. We've also gone to recyclable bags and use tetrapak for our wet food entrees. It's unmatched sustainability.
If you could share one tip with pet parents, what would it be?
Train your pup early. It's good for both of you, and the pup will learn good behavior that will last a lifetime. Quick response to a command can also be a life-saver near a road. I travel to the Sierra foothills, and rattlesnakes live in the area too, so it's essential to get my dogs' immediate attention. There's also nothing quite as frustrating as calling your pup to come, and it ignores you. On the flip side, it's satisfying to call your pup, and it drops everything to happily run to you.
For training, use kibble as well as higher reward training treats – Jiminy's is a great, sustainable choice for both!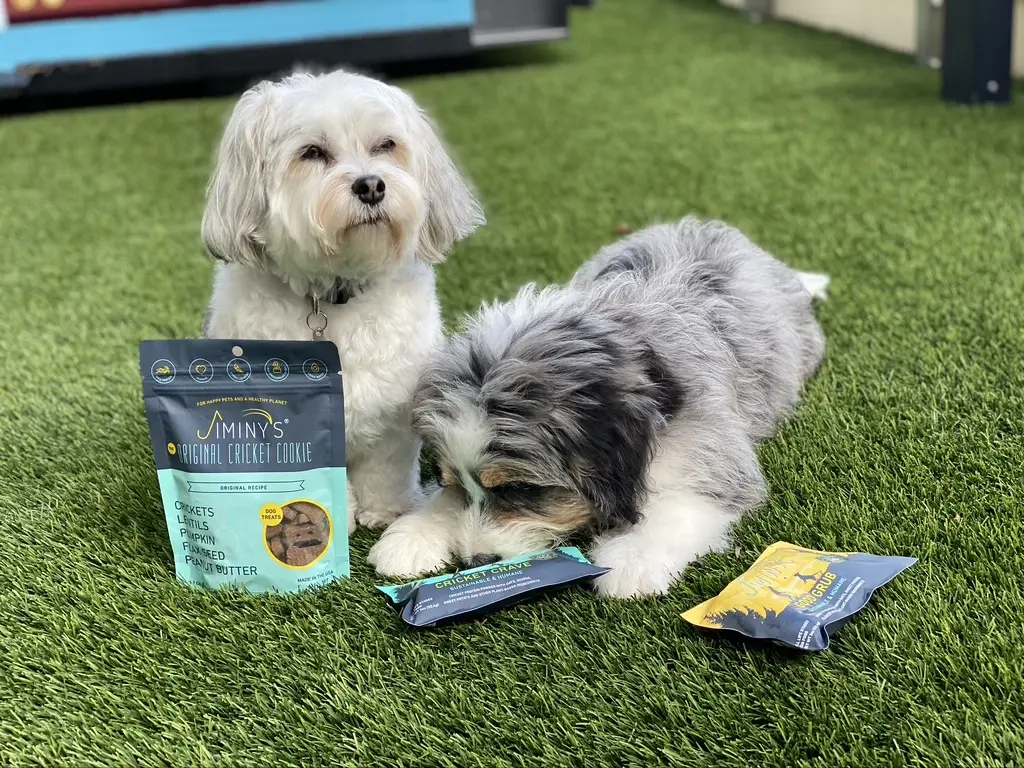 Would you like to try Jiminy's Wholesome Dog Food?
Click on the button below to check it out for yourself. Let us know how your pup liked it!